Foreign Affairs Minister Sibusiso Moyo yesterday (Monday) denied that alleged Drax International fraudster Delish Nguwaya is a holder of a diplomatic passport in response to "social media reports".
In a video statement, Moyo said his ministry was the "custodian of diplomatic passports in Zimbabwe", and they had no record of a recommendation for Nguwaya to be issued with one.
"I wish to confirm that from the Registrar General's records, Mr Nguwaya is the holder of an ordinary passport that was issued in Harare on October 4, 2011, and expires on October 3, 2021. The social media reports therefore are not true and are meant to mischievously tarnish the image of the government," Moyo said.
Diplomatic passports come with VIP treatment when holders visit foreign countries, and are typically issued to individuals who travel overseas on official government business – mostly diplomats and consul workers.
The ruling Zanu PF party has extended the privilege to all members of the party's Politburo, and President Emmerson Mnangagwa curved in to demands by Members of Parliament to also travel on the red passports, which are distinguishable from the ordinary green passport.
For weeks, there has been claims that Nguwaya was issued a diplomatic passport, allegedly following a telephonic showdown between first lady Auxillia Mnangagwa and the suspended Registrar General Clemence Masango.
The incident allegedly took place in early May last year, days before Masango was arrested and then suspended accused of flouting tender procedures in acquiring vehicles for his department. He also faced accusations of ordering officials not to cooperate with a Zimbabwe Anti-Corruption Commission investigation.
The claims of the existence of the diplomatic passport, which we have been unable to independently verify, surfaced after Masango was arrested.
People who claimed knowledge about events leading up to his arrest said he was being punished for refusing to issue a diplomatic passport following an "order" from the first lady.
Masango is alleged to have told her that he "does not take instructions from her."
It is claimed President Mnangagwa was in the room, and at one point was asked by the first lady to talk to Masango.
Still seething at the snub, it was alleged that she caused Masango's arrest "two or three days later."
If a diplomatic passport was eventually issued, this would have happened after Masango's arrest, the sources said.
Last week, Masango said he had no recollection of a conversation either with Mrs Mnangagwa, or the President, about a passport for Delish Nguwaya.
"I think I would remember it, if it happened. That's a matter for foreign affairs because they are the only ones that generate requests for diplomatic passports. If you want to know who has one, ask officials at the ministry otherwise enquiries should be directed to the Acting Registrar General. I'm not at work," he said.
Nguwaya is a long-time friend of the Mnangagwa family, an association which was first revealed by businessman Frank Buyanga in a letter to Chief Justice Luke Malaba in April, in which he accused the 36-year-old of making inappropriate contact with a judge hearing his child custody matter.
Buyanga claimed Nguwaya was working in collusion with his ex-girlfriend Chantelle Muteswa and Mnangagwa's twin son, Collins, to influence Justice Jacob Manzunzu to rule against him. They all deny the accusations.
A former member of the police constabulary with pending cases of extortion and drug possession, Nguwaya denies that Collins is his business associate.
He is currently in prison awaiting trial after he was arrested last week accused of fraud in winning tenders for the supply of drugs and medical devices worth over US$60 million to the health ministry.
Fronting for an Albania-born Italian national named Ilir Dedja, he is accused of winning the contracts on behalf of essentially the same company variously named Papi Pharma LLC, Drax Consult SAGL and Drax International – all of which were flagged as dodgy by intelligence services.
Fronting for an Albania-born Italian national named Ilir Dedja, he is accused of winning the contracts on behalf of essentially the same company variously named Papi Pharma LLC, Drax Consult SAGL and Drax International – all of which were flagged as dodgy by intelligence services.
Dedja is being sought by Zimbabwean police as an "accomplice" after a criminal investigation was triggered by Interpol, which intercepted a US$2 million payment to Drax International in Hungary, where the company had been registered just two weeks earlier in March.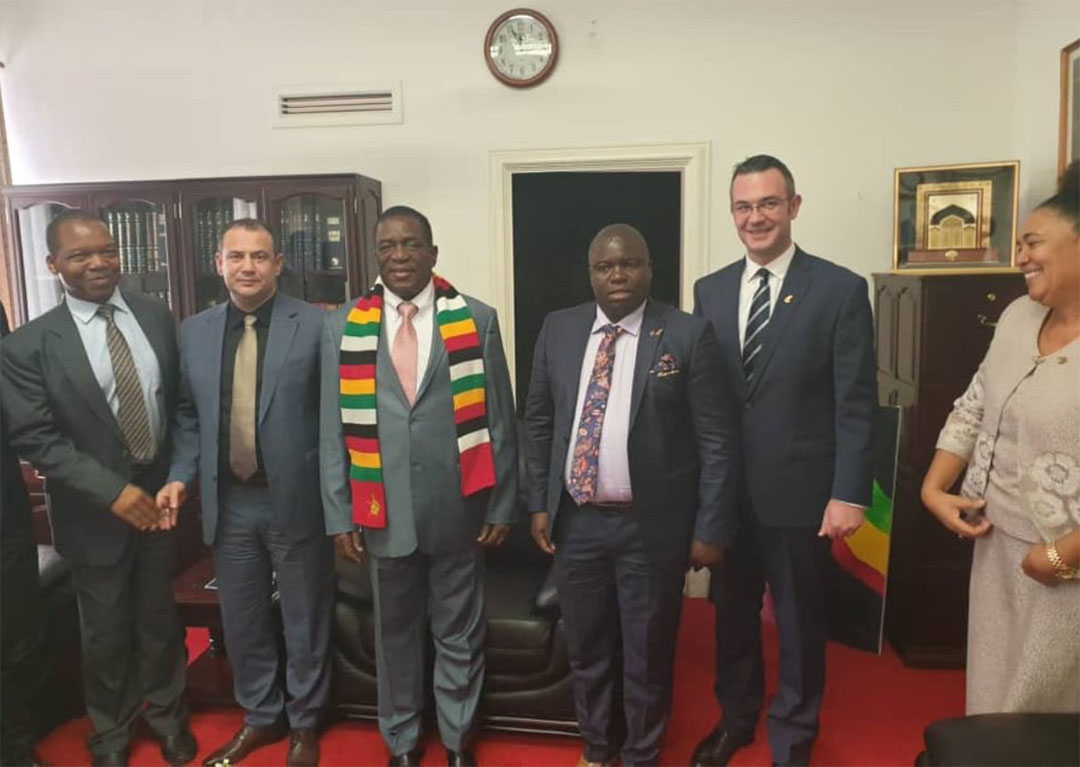 According to Zimlive, Nguwaya and Collins' twin brother, Shaun, a soldier, were part of a delegation led by the first lady which travelled to China in December last year to "court Chinese investors." The delegation included government officials. Eyebrows were raised over how the first lady, who is not a member of the government, led the delegation.
"I'm not in the government structures hence when the Chinese people advised me on the areas they would want to invest in Zimbabwe, I saw it prudent to engage ministries so that they get first-hand information and also for them to exchange notes with the Chinese delegation," she explained at the time. "I then asked for permission to come with them here together with individual business people. Back home, I also work with ministries in executing my philanthropic work."
As patron of the Angel of Hope charity, the first lady managed to get herself appointed "health ambassador" by Health Minister Obadiah Moyo, who was arrested last Friday over the Drax scandal. He was released on bail. No-one quite knows what the role entails, but she has been accused of interfering at NatPharm, where she arrived unannounced in May last year and demanded to see data on their drug stocks, accusing management of starving supply to remote hospitals.
Her visit to NatPharm was just two months after the health ministry signed a US$15 million drugs supply deal with Papi Pharma LLC, which was fronted by Nguwaya.
ZimLive has seen undated pictures of Nguwaya with the first lady, taken on the same day that Nguwaya met President Emmerson Mnangagwa in the company of a controversial Albanian businessman, Klodian Mërtiri, and the former Albanian lawmaker, Gerti Bogdani.
Health minister Obadiah Moyo and Reserve Bank governor John Mangudya also participated in the meetings.
The Mnangagwas have desperately sought to distance themselves from Nguwaya, who has a colourful criminal past.
"I have no business or personal relationship with any of Drax International's representatives, including Mr Delish Nguwaya," Collins Mnangagwa said in a statement in May.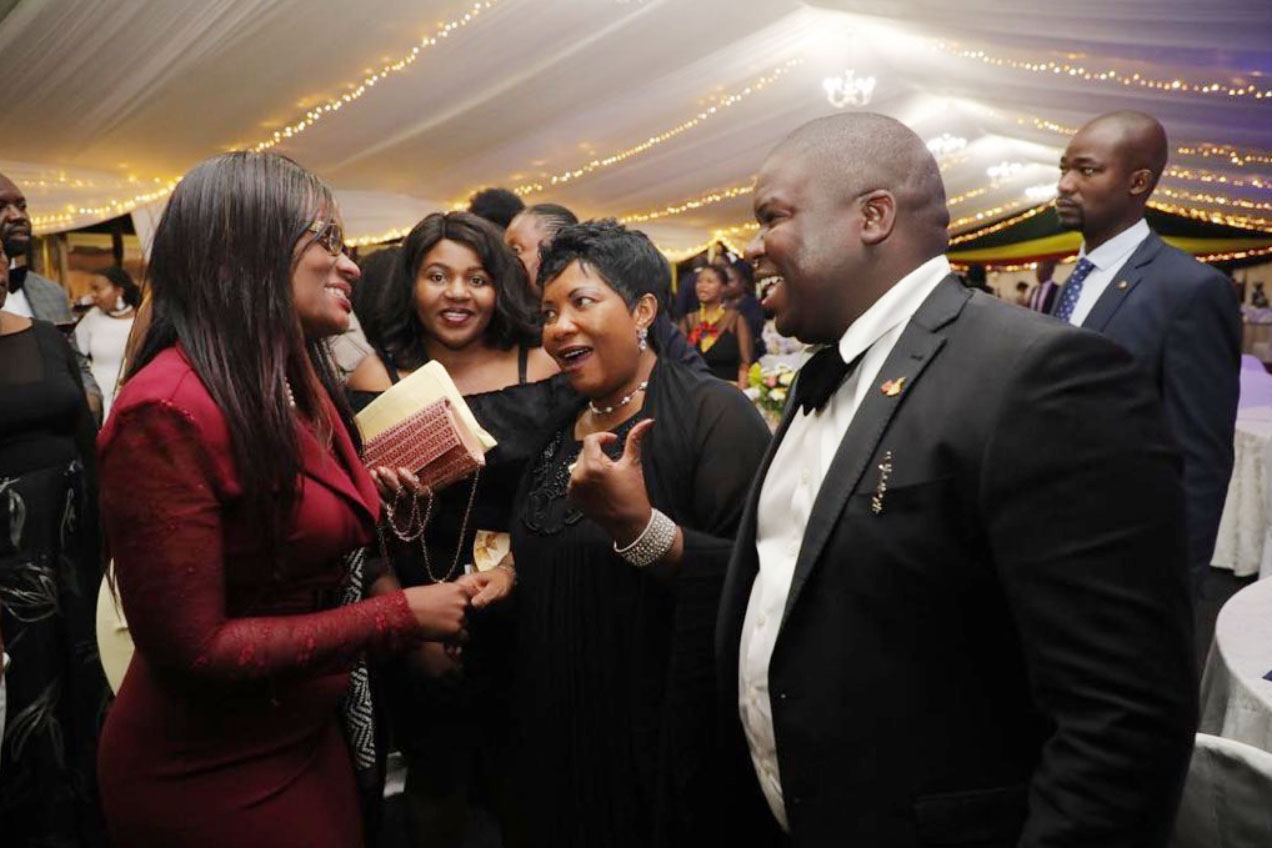 Zanu PF spokesman Patrick Chinamasa, acting in place of Simon Khaya Moyo who is receiving hospital treatment in India, threatened journalists who linked Mnangagwa and his family to the procurement scandal with unspecified action.
Known as The Chief to his associates, Nguwaya was shown on state television and newspapers standing next to President Emmerson and Finance Minister Mthuli Ncube in April this year.

He could be sacrificed to stop those following the corruption stench from knocking on the door of President Mnangagwa and his family, government critics say.
An admission by Moyo that they issued a diplomatic passport to Nguwaya would "shake the government to its foundations," according to former foreign minister Walter Mzembi, who has challenged the government to publish names of everyone who holds a diplomatic passport.
"People must understand the consequences of admitting that they (government) processed a diplomatic passport for Nguwaya, and where the buck stops. It would shake the government to its foundations," Mzembi told.