Deputy Minister for Information, Energy Mutodi was fired by President Emmerson Mnangagwa for his crass tweet that three MDC activists abducted and sexually abused by state security agents were prostitutes.


The motormouth former rhumba musician, who is MP for Goromonzi West, sneaked into Parliament after the MDC Alliance fielded two candidates in the July 2018 elections.

Mutodi, whose music career never quite took off, first emerged as then Vice President Emmerson Mnangagwa's stalking horse in the lead up to the 2017 coup which ousted longtime leader Robert Mugabe.
The 41-year-old, then writing feverishly on Facebook, repeatedly mocked Mugabe's ambitious wife, Grace, while praising Mnangagwa whose supporters were rallying under the 'Lacoste' faction in Zanu PF.
Mutodi was the subject of a video presentation prepared by Mugabe's political strategist Jonathan Moyo, which sounded the alarm about a possible forcible takeover of power by Mnangagwa. Mugabe never acted on Moyo's warnings until it was too late.
Rewarded with a government position some said he scarcely deserved, Mutodi soon discovered that being deputy minister in Zimbabwe is a lonely, almost pointless position – a bone to your loyal dog but nothing more.
He had to find a way to make himself useful, or at least felt. He turned to Twitter, the theatre of Zimbabwean politics and current affairs.
Controversy came almost as soon as he was appointed. A bitter row erupted between Mutodi and newspaper publisher Trevor Ncube in October 2018 after Ncube's Alpha Media Holdings doubled the cover price of its newspapers.
Mutodi, taking a swipe at "unscrupulous businessman", said "the media industry shall never be subject to speculative behaviour under our watch" as he demanded that the newspapers should continue to sell at old prices.
The jibe elicited a response from Ncube, a keen supporter of Mnangagwa, who told Mutodi: "I know what I feed my goats, so you will not decide how much I should charge."
Information minister Monica Mutsvangwa called both men to a news conference where a ceasefire was declared.
It would not be long though before Mutodi hit the headlines again. In January 2019, when the government raised fuel prices by 150 percent sparking deadly riots, Mutodi advised Zimbabweans on Twitter to "use bicycles where possible to save big", before warning ominously: "Do not protest in the street you can lose a limb in skirmishes."
In the protests that followed, rights groups said over 18 people were killed by security forces and over 75 others suffered gunshot wounds after Mnangagwa deployed the army. Over a dozen women were reportedly raped as soldiers moved from door-to-door looking for people who allegedly looted shops.
In August last year, Mutodi caused outrage after labelling an MDC official allegedly attacked by Zanu PF youths in Kwekwe a "prostitute". The MDC said its Midlands Youth Assembly chairperson Sekai Marashe was taken to a local Zanu PF office and brutally assaulted.
Posting a picture of Marashe with a swollen face, Mutodi commented: "No matter how democratic our government can be, we can never guarantee that drunkards and prostitutes stop fighting."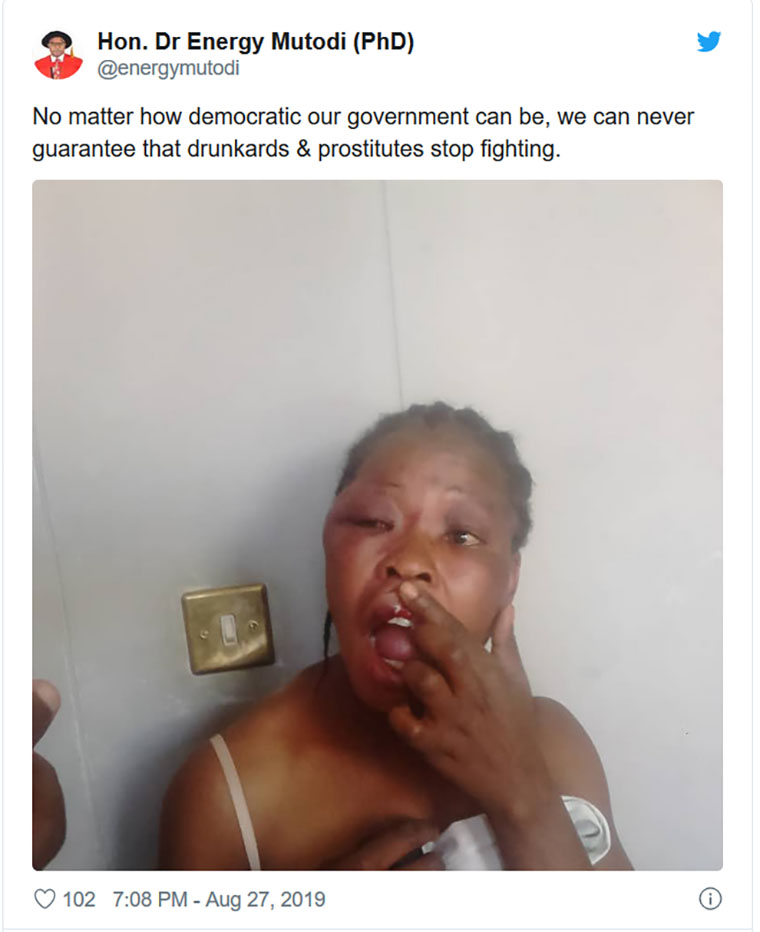 Mutodi was forced into a rare climbdown when he managed to upset almost the entire community of Ndebele speakers by claiming they were foreign.
He released a short video calling on South Africans to show tolerance towards foreigners and gave the example of Zimbabwe, which he said had "accommodated" Ndebele people fleeing from King Shaka.
"For South Africa, you will find that here in Zimbabwe, if you didn't know, just about 1836 we accommodated thousands of South Africans who came into Zimbabwe fleeing from (King) Shaka, and they were being led by Mzilikazi," Mutodi wrote.
"They settled on the western parts of the country, in Matabeleland. As I am speaking right now, at least three million Zimbabweans have South African origin."
Zanu PF secretary for administration Obert Mpofu, from Matabeleland North, unusually spoke out publicly, rebuking Mutodi at an event in Bulawayo.
"That's a totally unacceptable, misdirected statement which is not from Zanu PF. You see what's happening in South Africa (xenophobia), it's because of such reckless statements," Mpofu said.
Mutodi took down the video and apologised, stating: "My tweet saying about three million Zimbabweans were of South African descent has riled some Zimbabweans. The tweet has been misunderstood, giving political capital to the opposition. I wish to withdraw the tweet and unreservedly issue my apologies to whoever was affected."
Mutodi motored on, however, his behaving becoming even more erratic – but seemingly retaining the support of Mnangagwa, who appointed him perhaps for the same rabble-rousing qualities.
Graduating from the University of Cape Town with a PhD, Mutodi updated his Twitter profile to reflect this new academic milestone: "Doctor of Business Administration / Financial Markets (UCT)."
But many still couldn't reconcile his lofty academic achievements with his posts on Twitter.
In September last year, Mutodi was drawn into a new controversy, this time mocking Midlands State University (MSU) by suggesting it enrols students with low intelligence.
The row erupted when Mutodi tweeted: "After former president Robert Mugabe decided to be buried in a mausoleum, we anticipate the bourgeoisie will soon prefer the same burial as a sign of wealth and class. And the rural folks will call the grave 'musoromiya' of course failing in their endeavours to pronounce the term."
Tazorora Musarurwa, a lawyer, responded to Mutodi saying: "I feel sorry for my friends from the University of Cape Town that are so proud of their alma mater. Was considering applying for a PhD there as well but I am certainly having second thoughts."
Mutodi replied: "UCT is Africa's best university. You can apply but you certainly don't qualify judging by your IQ. Try MSU instead."
Tendai Chirau, the Zanu PF Youth League's secretary for administration, shot back at Mutodi: "I repeat once again, Energy Mutodi is not only a liability to government but a liability to his own country. It's unfortunate that the supposed to be energetic minister has energy to diss his own institutions."
Inevitably, Mutodi finally bit more than he could chew. On May 4, Mnangagwa's biggest cheerleader put out a tweet extolling his boss' success so far in containing the spread of the coronavirus, whilst taking a dig at Tanzanian leader John Magufuli's handling of the pandemic. Magufuli is one of Mnangagwa's closest allies, who was among the first to endorse and legitimise his illegal takeover in 2017.
Mutodi tweeted: "His Excellency John Pombe Magafuli's Tanzania now has 630 Covid-19 cases with prayers but without a lockdown, while His Excellency President E.D. Mnangagwa's Zimbabwe only got 31 cases with a lockdown and masks. An insight into how managers can be game changers."
The tweet was dismissed as one of Mutodi's typical, thoughtless rants – that is until May 13 when a curious statement arrived from foreign affairs minister Sibusiso Moyo, famous for going on television to announce the military takeover in 2017. A powerful man.
In the statement, Moyo – apparently prompted to react by a protest letter from the Tanzanian embassy in Harare – said Mutodi's comments made on Twitter "do not reflect the government's position nor policy."
Mutodi reacted petulantly, writing to Moyo on the same day: "Your public statement, which could have been sufficiently dealt with by a diplomatic correspondence to the Tanzanian embassy, if it mattered, has divided public opinion, first on the definition and meaning of government and whether you had become its Prime Minister in charge of the two ministries."
Mutodi also ranted at information minister Monica Mutsvangwa and her husband, Chris Mutsvagwa and for once admitted that he no longer trusted his comrades, with whom he so joyously celebrated the coup. He was scared.
"Living in fear of the Chris Mutsvangwa-SB Moyo coalition. I hope it won't resort to wartime tactics. Appealing for prayers," he tweeted.
Many feared – and hoped – the end was near for Mutodi, at least his time in government, but few could have predicted the sheer insensitivity of the tweet that would finally take him down – his boss apparently unable to defend him this time. ZimLive has heard that Vice President Constantino Chiwenga formed a tag team with Moyo, both telling Mnangagwa that Mutodi had to go.
Mnangagwa was already under pressure to explain the abduction, torture and sexual abuse of three female activists from the MDC, including an MP. As his regime has repeatedly done over the last year when rights activists have been abducted from their homes, beaten and dumped, Mnangagwa's government went into default position: denial.
"It's a diversionary tactic. A poorly choreographed attempt to throw a curve ball at the system. But you can't fool people by playing the same scene many times over and expect to successfully pull wool over their eyes. You have been seen a mile away," government spokesman Nick Mangwana tweeted.
Back in August 2019, Mangwana had trotted out the same line when comedian Samantha Kureya, known by her stage name 'Gonyeti', was abducted by Mnangagwa's security men and badly beaten.
Mangwana tweeted then: "Actress: Someone who plays the part of a character. A performer etc."
Mutodi, having done it so many times and gotten away with it, felt emboldened to take the smears against the MDC a notch up – but fatally failed to read the mood, locally and internationally, over the abuse suffered by the three women.
"Details emerge MDC youths Joana Mamombe, Netsai Marova & Cecilia Chimbiri went out for a romantic night to Bindura with their lovers who are artisanal miners. They parked their car at a police station for safety but tragedy struck when they demanded foreign currency for services," he wrote in his final act as deputy minister.
Mutodi's mindless musings from his deep reservoir of sexism sent a message to Mnangagwa's critics that his government was planning a whitewash. It was all a charade.
In the hours that followed Mutodi's tweet, perhaps by coincidence, the European Union, the United Kingdom and the United States of America issued a joint statement saying they "expect from the government of Zimbabwe a swift, thorough and credible investigation into the abduction and torture of opposition Member of Parliament Joana Mamombe, along with Cecilia Chimbiri and Netsai Marova and allegations of the assault on Nokuthula and Ntombizodwa Mpofu" who were handcuffed and badly assaulted by police in Bulawayo.
"The perpetrators of heinous acts of this kind and other human rights violations need to be identified and prosecuted," the missions demanded.
Mutodi had crossed the Rubicon, and there was no saving him.